Microneedle Pimple Patches
Advanced pimple patches packed with over 550 tiny dissolvable microneedles that painlessly penetrate the skin to dispense an intense burst of spot-busting actives deep down at the source. 
Cleverly designed to get to work from just 2 hours and take down a pimple, even before it emerges. Our exclusive triple-punch formula with totarol, green tea extract and salicylic acid helps stop bacteria, reduce inflammation, and replenish the skin.
Suitable for all pimples, including hormonal and deep cystic spots. Pop one on, feel the tingle, get on with your good skin day.
Suitable for Vegans.
Cruelty-free.
Free of parabens, preservatives, additives, and fragrances.
Microneedle Technology
Painlessly getting the good stuff under your skin!
550 ultra-fine serum infused microneedles are tightly packed on the patch – 4x more than any other microneedle patch - each microneedle is approximately 1/3 the thickness of the human hair.
Our microneedles are formed from crystallized salicylic acid, totarol, and green tea extract which painlessly penetrate the outer skin layer.
After two hours the microneedles self-dissolve releasing the ingredients into the dermal layers to purify from within, prevent bacteria from forming, reduce inflammation, moisturise, soothe and repair your skin.
Key Ingredients
Salicylic acid
Purges the skin of bacteria and debris, while reducing oil production and calming redness and swelling.
Green tea extract (EGCG)
Breaks down sebum and bacteria to disinfect the skin and unclog pores while reducing redness, swelling.
Totarol
Supercharges your skin's natural defences against toxins and UV damage.
Skin Types
Suitable for all skin types
Normal
Sensitive
Dry
Combination
Oily
How To Apply
Step 1
Cleanse and dry the target area.
Step 2
Apply the patch directly to the spot and press down to assist penetration, do not rub.
Step 3
Leave on for at least two hours (to allow the ingredients to dissolver), ideally overnight.
Step 4
Remove and discard when you're done.
All Ingredients
Trehalose, Cellulose Gum, Hydrolyzed Hyaluronic Acid, Glycerin, Sodium Hyaluronate, Aqua, Butylene Glycol, PEG-60 Hydrogenated Castor Oil, Madecassoside, Epigallocatechin Gallate, Salicylic Acid, Totarol, Ethoxydiglycol.
Delivery
All Vice Reversa orders are shipped direct from the UK via Royal Mail
We are despatching as normal and ensure contactless delivery
Standard Shipping £1.00
FREE ON ALL ORDERS OVER £10
Delivery within 5 working days
Royal Mail 1st Class £1.50
Delivery within 3 working days
Royal Mail 1st Class Signed For £2.00
Delivery within 3 working days
Customer Reviews
01/22/2021
Rory B.

United Kingdom
I recommend this product
Really Helped with Cystic Acne
Finally!! An acne patch that works!! It was exactly what they promised. Best product I've used so far. Especially with my sensitive skin that's acne prone.
01/11/2021
Amie B.

United Kingdom
I recommend this product
FAB
Recommended by a friend to try these to quickly get rid of my spot. Popped one on and within a few hours the size had gone down and was so much less painful.
12/29/2020
Katie C.

United Kingdom
I recommend this product
Christmas Eve Life Saver!
Twas the night before Christmas and a huge spot had decided to show up on my cheek! I applied one of the pimple reversa patches (it was the first time I had used one) and so the tingle was an interesting sensation but not painful at all! I left it on over night and by the morning it had really reduced in size and the redness had calmed down a lot!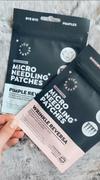 12/29/2020
Kay M.

United Kingdom
I recommend this product
Overnight Miracle
I absolutely love the micro needling pimple matches. Simple to apply, and you can feel it instantly working. I left one on overnight and the pimple had vertically gone by the morning! Amazing results!
12/24/2020
Debbie R.

United Kingdom
I recommend this product
Fabulous
Loved the smoothing effect of these patches around the eyes.
12/22/2020
Christina

United Kingdom
I recommend this product
I have to keep them in stock in my bathroom
I pop these on as soon as I start to see a spot appear – within a few hours I see a noticeable difference in the size and redness and usually by the next day its gone.
12/14/2020
Tessa P.

United Kingdom
I recommend this product
Fabulous!!!
Great product... amazing service!! Thank you
KR
11/09/2020
Karoliina R.

United Kingdom
I recommend this product
Quite good for moderate pimples
I used it on a old and very deep pimple that had gone bad already. It did calm it down but didn't help me get rid of it. Used 2 on it.
10/28/2020
Danielle c.

United Kingdom
I recommend this product
Good alternative
Great cheaper alternative to the other leading brand but didn't find them to be as effective. Great for normal spots but perhaps not deep cystic type spots. Also found adhesive wasn't as good on my jaw so lost the patch after a couple of hours!
FE
10/24/2020
Fiona E.

United Kingdom
I recommend this product
Fab
Very effective patches