Microneedle Wrinkle Eye Patches
Regular price
£34.95
Sale price
With over 2600 dissolving microneedles made from collagen and peptides to help reduce the appearance of fine lines.
"I absolutely loved them - under my eyes felt softer and looked brighter."
- Anna, Vice Reversa Customer.
When peptides meet 2600 tiny microneedles, amazing things happen. Our ultimate plumping patches painlessly penetrate the skin to deliver an intense shot of collagen-boosting actives deep down where it counts. 

Take your anti-aging eye care to the next level and get the best of both worlds – an instant eye-brightening lift with targeted wrinkle-reducing power. Our superstar formula with hyaluronic acid, collagen and peptides has been created to minimize fine lines and puffiness, maximize hydration, and ramp up radiance. 

Great as an SOS 'plump-up' to maximize hydration and ramp up radiance. Use as a weekly treatment for results from 4-6 weeks that get better over time.

Key Ingredients
Hyaluronic acid
Large and small molecules amp up natural collagen levels, providing deep hydration while reinforcing the skin's natural barrier.
Collagen
Fills in fine lines, while helping skin to retain hydration, elasticity, and resilience.
Peptides
Provide the building blocks for protein formation in the skin, helping reduce fine lines while restoring firmness and elasticity.
Skin Types
Suitable for all skin types
Normal
Sensitive
Dry
Combination
Oily
How To Apply
Step 1
Cleanse and dry the target area.
Step 2
Apply the patch directly to under-eye area and press down to assist penetration, do not rub.
Step 3
Leave on for at least two hours (to allow the ingredients to dissolve), or overnight if preferred.
Step 4
Remove and discard when you're done.
All Ingredients
Trehalose, Cellulose Gum, Hydrolyzed Hyaluronic Acid, Glycerin, Sodium Hyaluronate, Aqua, Hydrolyzed Collagen, Butylene Glycol, PEG-60 Hydrogenated Castor Oil, Madecassoside, Adenosine, Acetyl Hexapeptide-8, Copper Tripeptide-1, Palmitoyl Pentapeptide-4, PEG-40 Hydrogenated Castor Oil, PPG-26 Buteth-26, 1,2- Hexanediol, Caprylyl Glycol.
Delivery
All Vice Reversa orders are shipped direct from the UK via Royal Mail
We are despatching as normal and ensure contactless delivery
Standard Delivery £2.00
FREE ON ALL ORDERS OVER £10
Delivery within 5 working days
Express Delivery £3.50
Delivery within 3 working days
Revolutionary, effective and painless
LISA ARMSTRONG
This 'miracle' product could be the solution we're all searching for
JOSIE GRIFFITHS
Add Vice Reversa Patches to your sticker collection.
SOPHIE QURESHI
The microneedles make it feel like the product is really getting under my skin.
Talia
Really easy to apply and very comfortable, felt as if they were tightening the skin
Patricia
I loved using these. The spikes made it feel like the product was really getting under the skin.
Sophia
Micro-needling skin-fix patches you can do at home
ANNABELLE SPRANKLEN
I'm really impressed that my spot didn't reach peak horror and is now almost gone.
Anna Jay
What is Microneedle technology?
550 ultra-fine serum infused microneedles are tightly packed on the patch - 4x more than any other microneedle patch - each microneedle is approximately 1/3 the thickness of the human hair.
Our microneedles are formed from crystallized active ingredients such as salicylic acid, collegen, hylauronic acid, totarol, peptides and green tea extract which painlessly penetrate the outer skin layer. 
After two hours the microneedles self-dissolve releasing the ingredients into the dermal layers to purify from within, prevent bacteria from forming, reduce inflammation, moisturise, soothe and repair your skin.
SUSTAINABILITY FOCUSED
USE WITHIN SIX MONTHS
PRESERVATIVE FREE
ADDITIVE FREE
SUITABLE FOR SENSITIVE SKIN
PARABEN FREE
Frequently Asked Questions
How are microneedle patches different to creams and serums?
The skin's natural barrier function means that most creams and serums simply sit on the surface of skin, leaving key ingredients unable to penetrate deeply enough to make a difference.
At Vice Reversa each microscopic microneedle is made from crystallised serum allowing our microneedle patches to deliver the ingredients directly to the dermis meaning you see changes from the inside out by directly improving hydration, collagen and cell regeneration.
Do microneedles damage the skin?
No. Each microscopic microneedle is 250 microns in length (a third of a millimetre) and are designed to gently penetrate the skin resulting in no damage, no pain and no trauma.  
What do microneedles feel like when applied to the skin?
When patches are applied you may feel a slight prickle as you first press the patch onto the skin, followed by a warm tingle as the microneedles start to dissolve, flooding the area with game-changing actives.
Are microneedle patches reusable?
Each microneedle under eye patch pair is for one time use.
When should I apply my microneedle patches?
We recommend using our microneedle undereye patches up to three times a week. They should be applied directly after cleansing and toning, pre-serums and moisturizer. It is important to ensure the area is dry prior to applying the patches. It's important to leave the microneedle under eye patches on for two hours to allow the microneedles to fully dissolve.
When I remove the microneedle patch there is a film left on my skin, is this normal?
This is normal and is caused by hyaluronic acid that did not fully dissolve into the skin.
Customer Reviews
Write a Review
Ask a Question
The best under eye patches!
These have worked wonders on my eyes! The microneedles make it feel like the product is really getting under my skin and my skin looks so hydrated and glowy after using them. Will keep purchasing, they are a life saver!
04/08/2021
Zoe M.

United Kingdom
So far I love them!
I've used these once and my eyes looked so smooth and bright!. These patches contain small micro needles that contain collagen, peptides and Hyaluronic acid. The micro needle is then pressed into the skin and dissolves when you wear them. I chose to wear mine overnight as once I got used to them they were pretty comfy! Woke up with a small amount of excess product which I then washed away and voila. Bright under eyes!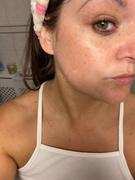 04/07/2021
miss S.

United Kingdom
just WOW1
Absolutely LOVE these, easy to apply, nice and flimsy, and easy to sleep wearing them.. I noticed a little difference after the first use and a big difference after the 2nd and 3rd... and I'm buying more and not used the 4th set yet1
04/07/2021
J

United Kingdom
Nice but expensive
Got the 4 pack used 3 times once a week, going to buy more see what I think after more weekly use. Thay do seem to plump up and hydrate the skin and I like how thay get the product in to skin to make it nice and plump and hydrated under eye area. Would give more stars if thay could be bigger to cover bigger areas , thay are quite small compared to other eye patches. Also there expensive could definitely be better value for money. Nice product but unfortunately can't justify using them more regularly due to price, would probably use twice a week if thay were better value
04/04/2021
Sam D.

United Kingdom
3
The product it self is lovely and easy to use but I have not seen the results as yet so not very happy at present
04/03/2021
Sean C.

United Kingdom
Micro needle patches
Absolutely love this product
03/30/2021
Rachel C.

United Kingdom
Fantastic overnight product!
I've been wearing the microneedle wrinkle patches under my eyes overnight, every so often for a few weeks now and I can see a definite difference already! My skin appears more plump and less tired looking.
03/27/2021
Hannah

United Kingdom
Visible difference
I tried this product because I didn't fancy actual micro-needles, and was impressed to find that the lines by my mouth looked much fainter after using the patches overnight. Will use again.
03/23/2021
Margaret S.

United Kingdom
Eye patches
Really good, eyes look nice and fresh looking forward to see moor results in a couple of weeks, try them
03/23/2021
Anonymous

United Kingdom
Great quality product
I used the micro needling patches around the eye area overnight and found that the next day my skin appeared healthier, more glowing and definitely plumper. You can feel the patches working which is satisfying- highly recommend